Product description
Our gentle soap is suitable even for the soft skin of your little one.  Our handmade bar soap, Mathew Bubble, is made by the cold process. Enriched with Calendula herb, Chamomile essential oil and Shea butter. The resulting rich, creamy lather with its refreshing aroma is a skin care essential.
Both Chamomile and Calendula have warming and anti-inflammatory effects. With their nurturing effects, the skin will be soothed in no time.
Shea Butter is suitable for all skin types and leaves skin hydrated. Despite being an oil based ingredient, it is fast absorbing and doesn't leave your hands feeling oily. Additionally, sheabutter is also anti-inflammatory.
Dead Sea Salt  is beneficial for healing skin diseases, eczemas, acne, fungus and psoriasis.
Hmotnosť 100g

---
Use
Avoid contact with eyes.

---
Ingredients
Organic Shea Butter, 100 % Chamomile Essential Oil , Dead Sea Salt, Water, Calendula .
---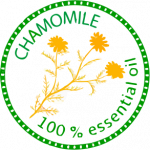 ---
INGREDIENTS
Butyrospermum Parkii Butter, Chamomilla recutita oil (Limonene, Linalool), Maris Sal, Water, Calendula officinalis.
---
Use
---
Avoid contact with eyes.

List of allergens
A list of allergens that may cause a skin allergic reaction in some sensitive individuals. Pursuant to Section 49 of the European Parliament and Council Regulation (EC) 1223/2009 on cosmetic products.
---
Limonene
Limonene belongs to the family of monoterpenic carbides and is a molecule with the fragrance of lemon and oranges. Limonene is a natural part of some plants, trees, fruits and vegetables (especially citrus fruits).
Linalool
Linalool is a molecule that is naturally present in almost all essential oils, in lesser or greater concentration. It is a colorless compound with a fresh, sweet floral scent.